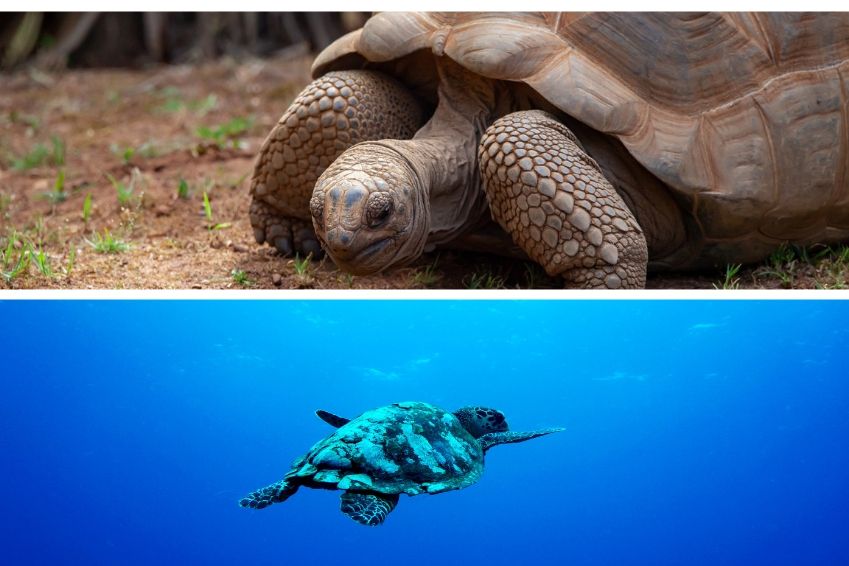 Let's discover this adorable shelled creature that fascinates young and old alike with its appearance and longevity. Whether on land or in the water, Mauritius welcomes many species which pleasure visitors. On land, we will meet the giant turtles of Aldabra and the superb radiated turtles. But first, we will swim with marine turtles in the crystal clear and tranquile turquoise waters, where the green and hawksbill turtles await us.
Swimming with Mauritius marine turtles
There are several spots to discover sea turtles, especially in the Northern Islands, near the reef of Gabriel Island. We can also observe individuals at Turtle Point, Blue Bay, on the side of Le Morne or at Flic en Flac.
An excellent idea would be to go to Trou aux Biches, on the public beach where you will come across many boats offering sea trips to see the turtles. They usually all go to the same spot, which is reached quite quickly, and where you are almost sure to see turtles! 
You will most likely have the opportunity to admire the green turtle and the hawksbill turtle, two species found in the area (of the eight existing marine turtle species): The green turtles are essentially carnivorous since birth and consume small invertebrates as well as eggs and fish. When they reach a certain age, they only feed on algae and seaweed, which gives them their colour. Interestingly, the hawksbill turtle prefers to feed on jellyfish. Be aware that it is totally forbidden to touch the turtles to ensure their well-being.
Enjoy this show and marvel at these wonderful creatures! They generally spend their entire lives in the water, except when females return to the beach to lay eggs (their sense of orientation is exceptional). Moreover, marine turtles are true survivors, once the eggs hatch, the baby turtle must face a multitude of dangers and has a one in 1,000 chance of reaching adulthood. Unfortunately, no Mauritius turtles have laid eggs on the beaches for several years. Hopefully, they will come back one day...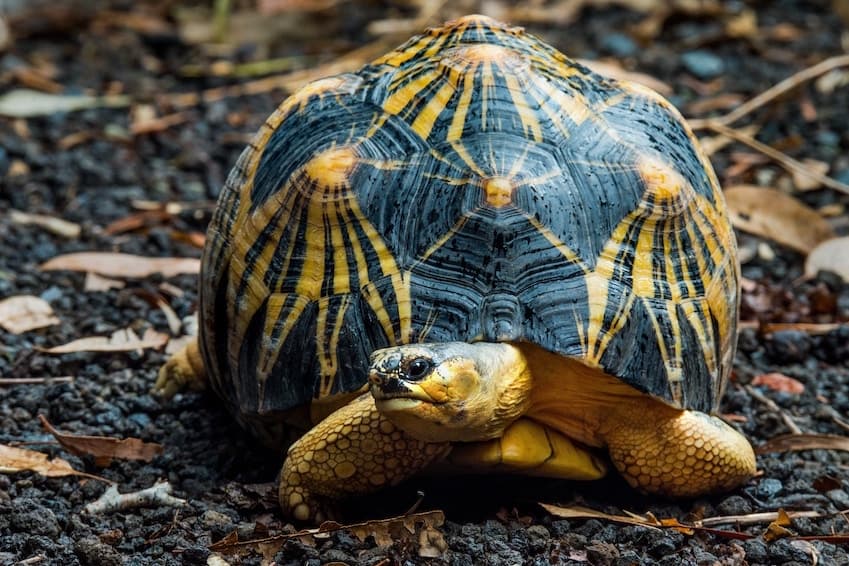 Visit the land turtles
Like marine turtles, land turtles are only found in particular places. On the island of Mauritius itself, some species can be seen in parks and public gardens such as the
Garden of Pamplemousses
, for example. But it is even more interesting in the Vanilla Nature Reserve (in the very south of the island) as well as on Ile aux Aigrettes where giant turtles flourish in total freedom.  
But if you have the opportunity to take the sea (or a plane) to Rodrigues Island, then you must go to the François Leguat giant turtle reserve. In 20 hectares of land covered by superb flora with at least 110,000 endemic plants, you will walk along 2 km of trails to greet these immense creatures, before enjoying a guided tour of the region's magnificent caves. These giant turtles are the last survivors of the turtles that inhabited the islands of the Indian Ocean, which, for the most part, were decimated with the arrival of humans. 
The reserve currently has 600 Aldabra turtles (giant turtles from the Seychelles) that weigh an average of 250 kg as adults and whose shells can reach 120 cm in length. Some can even live beyond 150 years! But there are also 650 other turtles. The latter are renowned for their beauty, with their shell decorated with bright yellow lines that radiate from the centre of each plate. This distinctive type gives them a camouflage that can be used in their natural habitat. 
If you wish to go there, you can do so every day of the year between 09:00 and 17:00. Guided tours of the reserve are free and take place at 09:30, 10:30, 13:30 and 14:30.