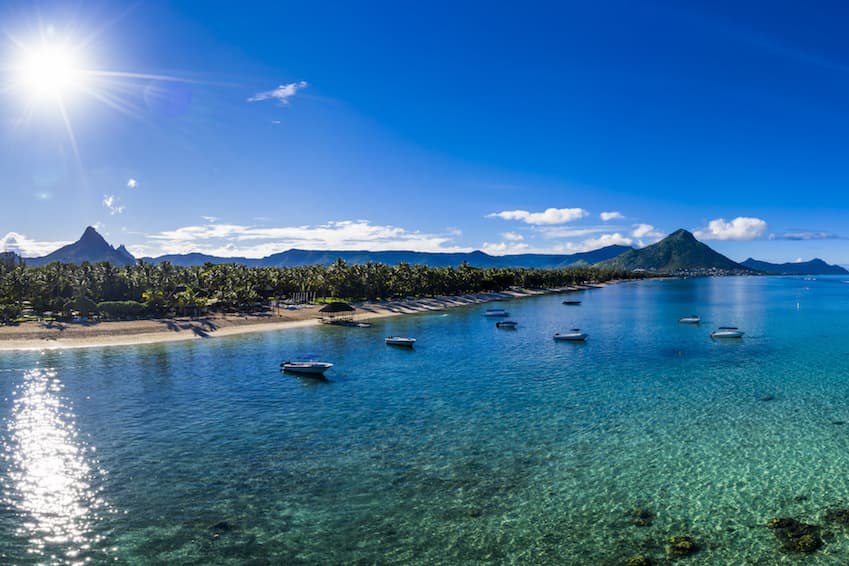 Mauritius makes us dream with its long stretches of white sand, its landscapes and its nature. Surrounded by the sea, it has many coasts and spots for water sports. The climate of the island is also perfect for kitesurfing. The south of the island has the best spots and is much busier than the north, which also has some sports. Discover with us the best kitesurfing spots and centres in Mauritius. 
 
>>> Discover our villas in Mauritius
>>> What other water sports to do in Mauritius
The best spots
Le Morne (South)
 
This is a kitesurfer's paradise, and without doubt the best place on the island to kitesurf. Surf the waves while enjoying an extraordinary view of the Morne mountain. If you are new to the sport, its lagoon is ideal for beginners. For experts, spots such as the One Eye are perfect for you.
 
Anse la Raie (North)
 
This is one of the most beautiful beaches on the island, so it is very popular in summer. To the north, near Cap Malheureux, its crystal clear sea attracts many water sports enthusiasts. Its shallow waters are ideal for kitesurfing beginners. The sea is divided into several planes, so this area is suitable for all levels.
 
Belle Mare (North East)
 
An authentic beach with shallow waters, located near the tip of Flacq. It is wide enough for you to progress at your own pace and kitesurf at your leisure. Almost unspoilt, this strip of white sand surrounded by lush vegetation will appeal to nature lovers! The Palmar spot also overlooks the same bay.
 
Bel Ombre (South)
 
A turquoise blue lagoon, coconut palms and unspoilt nature, this is the setting for Bel Ombre beach. A smooth sea and wind are the perfect combination for surfing the waves of this paradise. It is suitable for different levels.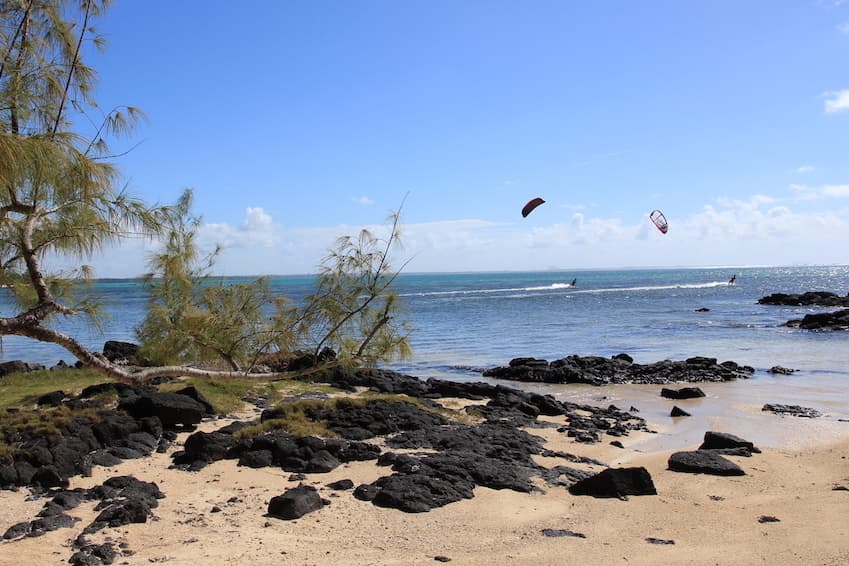 Kitesurfing centres
Pryde Club 
Address: Le Morne kite lagoon, La Gaulette, Mauritius
Want to discover or rediscover this unique experience? The Pryde Club offers lessons for all levels, from beginner to advanced. In addition, equipment is included. The school is located on the tip of Le Morne, in the south of Mauritius. If you are already an expert kiteboarder with your own equipment, but you want to be supervised for more peace of mind, the school also offers a supervision service.  
Son of Kyte
Address: Royal Road, La Gaulette, Mauritius
Son of Kyte offers different courses, workshops or rentals depending on your level and wishes. Located near Le Morne, you can learn to kite in shallow waters guided by an instructor. The school is the only one operating in the Prairie spot, a beautiful white sand lagoon. The sessions are usually 3 hours long. All equipment is provided, from kites to wetsuits, but you can of course choose to take your own.  
If you don't need a lesson, you can hire the equipment for 1 or 2 hours or by the day.  
Ion Club
Address: BluMarine Hotel Anse La Raie
In the north of Mauritius, there are fewer schools. Several options are available, you can progress under the wind of one of the best spots of the island. You can choose from several levels, beginner, intermediate or advanced. A wide range of choices are available, you can book a private lesson, choose a discovery option or a training session. Learn to master the basics of kitesurfing in small groups.   
>>> Discover our villas in Mauritius