On holidays, there are often two types of people: some prefer idleness and relaxation on the beach, while others need to move and discover the country in which they are staying.
If you are relate more to the second type, this article is for you! You can find all our tips for playing sports on holiday in Mauritius: what activities, where, at what time of day?
Unless you have planned daytime activities, it is recommended to exercise early in the morning or in the evening because of the high temperatures. So, if you want to go running, you might prefer the morning to the middle of the afternoon, you will be cooler, there will probably be fewer people and you can admire the sunrise on the island.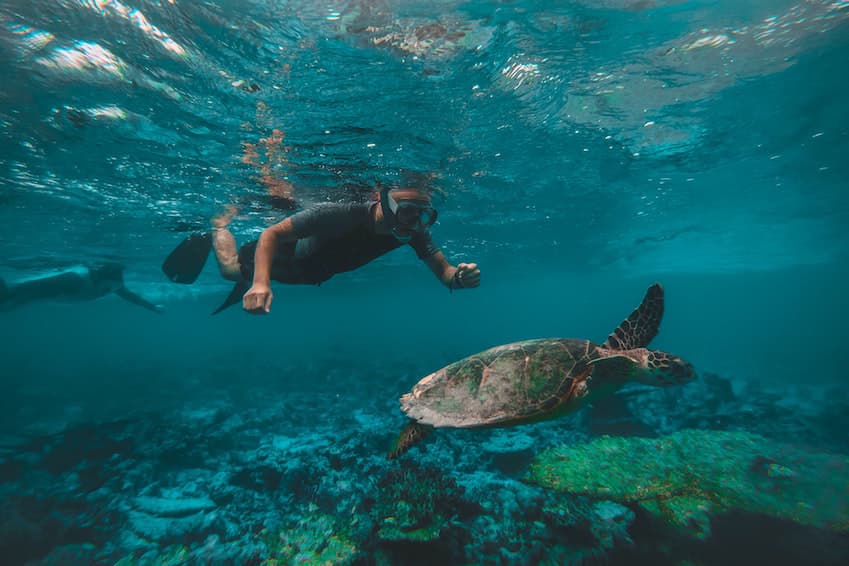 Water activities: diving, snorkeling
A real paradise for water sports enthusiasts, your holidays in Mauritius can be an opportunity for you to discover kite surfing or to take your first dive in the
most beautiful spots of the island
. The island is renowned for the quality of its corals, in addition to the clarity of its waters.
For a first dive, count a little more than 2000 rupees, or about 50€ per person, but the price depends on the location of the dive. Dare to experience diving in Mauritius! 
If you prefer scuba diving, most beaches are the perfect place to start snorkeling. Bring a snorkel and fins and you're done. However, the majority of the most spectacular places are accessible only by boat.
Terrestrial activities: hiking, mountain biking
What better way to enjoy the island's paradisiacal landscape than hiking? Get off the beaten track and discover the island from a different angle - from its peaks or in the heart of the forest! Whether you are with your family, a couple or alone, the island offers a variety of courses of all levels that will seduce you. Day trip or short walk, there is something for everyone.
Remember to bring enough water and proper footwear to hike in good conditions.
For a family outing, think about mountain biking! You will have the opportunity to enjoy a sporting experience while enjoying a spectacular view. Lovers of wild landscapes and nature will be delighted.
If you prefer golf to hiking, it is also possible. The island has more than 10 clubs: it is easy to play golf in Mauritius.
The highlight: the original activity, the Solar Sea Walk
Do you want to experience an unforgettable scuba diving adventure? Try Solar Sea Walk, at the crossroads between scuba diving and astronaut work. You will be equipped with transparent helmets, which will allow you to breathe underwater while enjoying the view of the underwater fauna and flora. Not to be missed!
Mauritius: the paradise for sports enthusiasts
In short, Mauritius is a real paradise for sports lovers and you are guaranteed never to be bored.
For more inspiration regarding the activities to be done and the experiences to be lived, find our
thematic selection
.