The most beautiful sites for scuba diving in Mauritius
Written on : 21 March 2019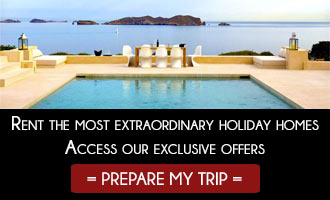 With its turquoise lagoons and warm waters, Mauritius has something to dream about. Though some people prefer to relax on their honeymoon, or simply to have a good time with their loved ones, others want to explore the seabed of this island paradise. What is certain is that scuba diving enthusiasts will not be disappointed with Mauritius. Varied and splendid, there are diving sites dotted around all four corners of the island. Although it is possible to dive all year, the best time to practice snorkeling is between October and March. Put on your wetsuit, mask and snorkel, and set off to explore the fantastic aquatic life of Mauritius!
1- The coral garden in the Blue Bay Marine Park
Classified as a Ramsar site, the Blue Bay Marine Park has not finished surprising you. Covering an area of more than 350 hectares, this park is recognised for its ecological functions as well as for the protection of its incredible biodiversity. Notice to all lovers of snorkelling, the coral garden in the Blue Bay Marine Park is a must! Indeed, here you will find rare species of corals. Along this exceptional seabed, discover fish of a thousand and one colours and a surprising vegetation. The show is simply magical. If you do not want to dive, it is also possible to rent a boat and stay on the water to watch these vertebrates play with their fins.
2- The Cathedral, Flic en Flac
As you probably know, the west of Mauritius enjoys a favourable climate all year round. But this region is also home to the most beautiful scuba diving sites. Among them is the Cathedral, in Flic en Flac. This is the most famous spot in Mauritius. As soon as you dive into the turquoise waters of the Cathedral, you will understand why. This site contains a 28 metre arch and a vertical chimney that allows you to approach the most dazzling species of marine life. Watch a stream of light seep through the arch and chimney. All the aquatic landscape will be illuminated. It's a delight for any underwater photographer! In the overhangs and crevasses, you can admire a plethora of colourful fish but also large moray eels, scorpion fish and schools of jacks.
3- The Aquarium, Grand Baie
Located in the Trou d'Eau Douce lagoon, the Aquarium is ten metres deep. With a beautiful light, the Aquarium is ideal for all those who want to learn about snorkelling. Under your diving mask, you will be able to contemplate all the beauty of the juvenile fish, seahorses and emperor fish. And yes, the Aquarium is aptly named. Like a huge natural pool, this scuba diving site radiates light. Swim in the middle of an abundant wildlife and explore all the richness of the biodiversity of Mauritius.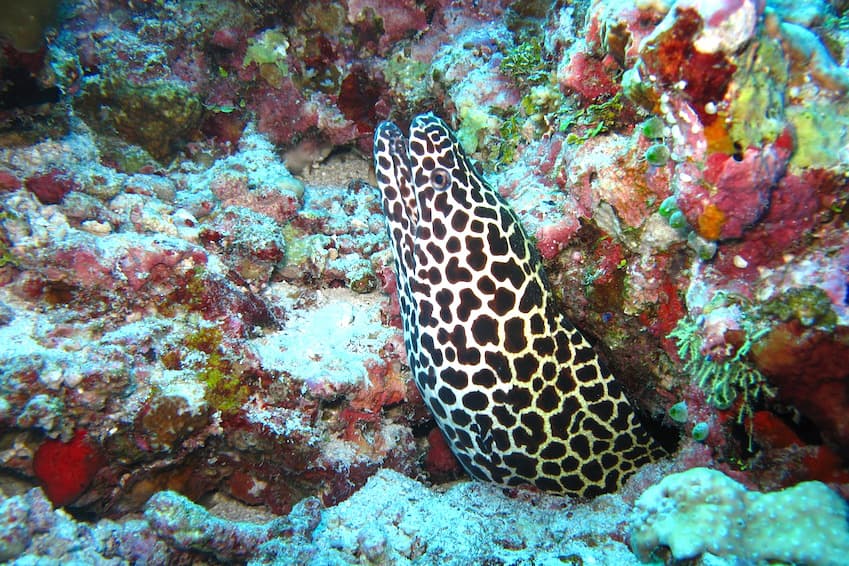 4- Snake Rampart, Flic en Flac
Once again, Flic en Flac dazzles visitors with the beauty of its marine fauna. Undulating like a snake, this dive site is very aptly named. Over 120 metres long and one metre high, you can observe predators closely watching for their prey: angelfish, moray eels, but also lobsters, catfish and soldier fish. The underwater wildlife is of incredible beauty here. In the waters of Snake Rampart, you can also swim alongside impressive species such as marlin and flying lionfish.
5- The Shark Pit, Pigeon Rock
Discovered by Hugues Vitry, the Shark Pit is undoubtedly the most impressive dive spot of all Mauritius. Some diving clubs in the North and West of the island organise excursions to this breathtaking spot. If you fancy an adrenaline rush, the Shark Pit is for you! As its name indicates, this spot allows you to observe a great concentration of sharks which congregate in their natural environment. In this pit, there are about 60 species of shark, including the famous gray sharks. Get ready to admire these gorgeous creatures and shudder as they approach!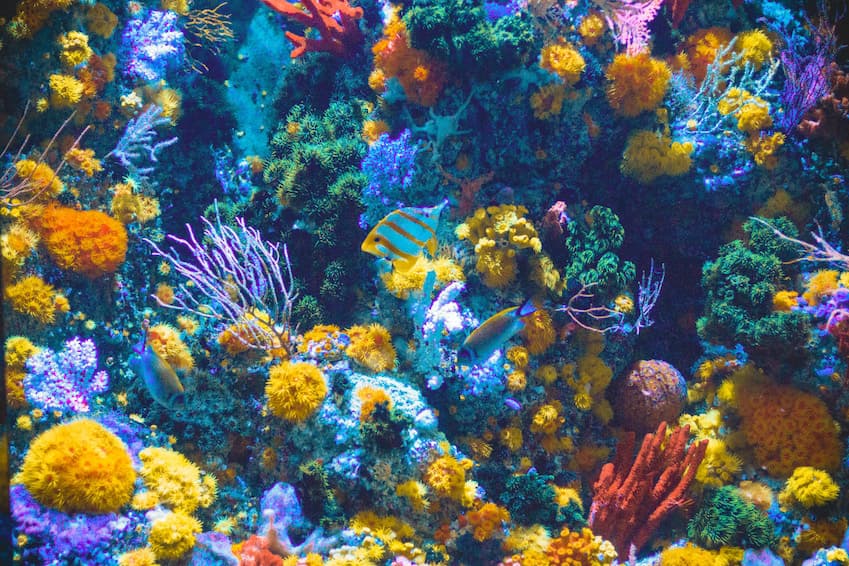 6- The Japanese garden, Belle Mare
Though the beach of Belle Mare is famous for its fine sand and its turquoise blue waters, its seabed is absolutely not to be missed. The site is full of scuba diving areas. The most exceptional is undeniably the Japanese garden. Located in the pass of Belle Mare, the Japanese garden is for beginners as well as more experienced divers. More accessible than the Gorgonian forest, the Japanese garden radiates beauty and will delight all underwater photographers. Here, the coral life is rich and the fauna, tropical. Between 16 and 22 metres deep, you will be able to contemplate species as incredible as butterflyfish, moray eels, batfish and Moorish idols. The Japanese garden of Belle Mare is also known for the protection and diversity of its corals. Fire corals, staghorn coral but also tubular corals, the Japanese garden of Belle Mare has not finished amazing you!
7- Silver Star, Grand Baie
There are several wrecks in Grand Baie, but Silver Star is probably the one that deserves the most attention. 40 metres long and extremely well preserved, the Silver Star is covered with soft corals and serves as a habitat for an abundant aquatic fauna. Here you will encounter barracuda, batfish, trevally and even toadfish, often motionless and hidden under the recesses of the Silver Star. Big scorpion fish have also found refuge there. Ideal for taking photographs and admiring the beauty of the underwater fauna, the wreck of the Silver Star is nevertheless reserved for the most experienced divers!
8- Coin de Mire
Several diving clubs are based in this region of northern Mauritius. If you have the opportunity to go there, you will quickly understand why. Here, the underwater flora and fauna is rich and colourful. Perfectly suited to families, the Coin de Mire will never stop amazing you. Several scuba diving spots exist at Coin de Mire. Between the wreck of Djabeda, at a depth of 34 metres, and the site of Confetti Bay, your trip to Coin de Mire will be unique in the world. Once your mask and snorkel are on, admire sea turtles, beautiful anemones and clownfish. We also advise you to go to the Charpentier spot, 25 metres deep, which is a reef that is full of life, where the aquatic fauna evolves in the middle of canyons and underwater caves.