Mauritius
is world famous for its idyllic natural landscapes and vibrant culture. A dream destination that every year brings happiness to millions of travellers,
newlyweds
, friends or sports enthusiasts in
search of thrills
. The island contains many treasures that can be discovered through various entertaining and captivating activities.
If you want to
travel with your children
, Mauritius is ideal. There are many things to see and learn about in the pearl of the Indian Ocean. Sites of great beauty and activities that will delight the whole family, from the youngest to the oldest. From the various amusement parks to the many museums and nature walks, you will certainly find something to entertain your children while teaching them about the wonders of nature. Memorable family experiences await you in Mauritius!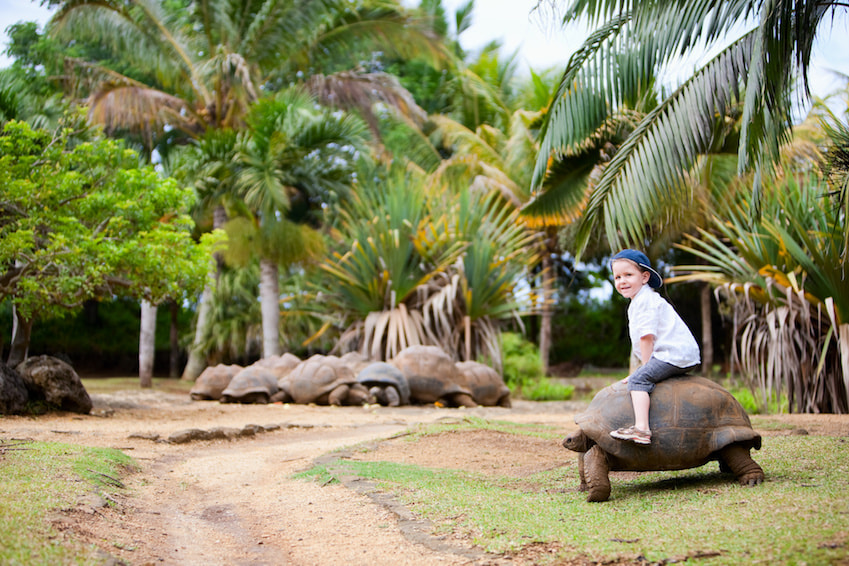 Feeding the giant turtles
In Mauritius, several parks offer the opportunity to meet the famous giant turtles. However, our favourite is La Vanille Nature Park, a small natural park located in the
south-east of the island
, home to many species, each more impressive than the other. Created in 1985, it raises and participates in the breeding of crocodiles, buffalo toads, brown pigs, geckos and mongooses. The star of the park, however, is the giant Aldabra turtle. These creatures, some of which are about a hundred years old, live freely in a huge unfenced savannah-like space. This allows you to approach them and touch their shells. Quite impressive mastodons that will fascinate young and old alike.
If you are lucky, you will surely have the opportunity to see these giant turtles enjoying their meals as they munch on carrots or salad. Your children will be able to feed them, touch them and learn more about these mysterious creatures. You may have the opportunity to see Domino, a male over 100 years old weighing about 275kg, the true star of the park. A magical visit that the whole family will love and that your children will be able to proudly tell their classmates.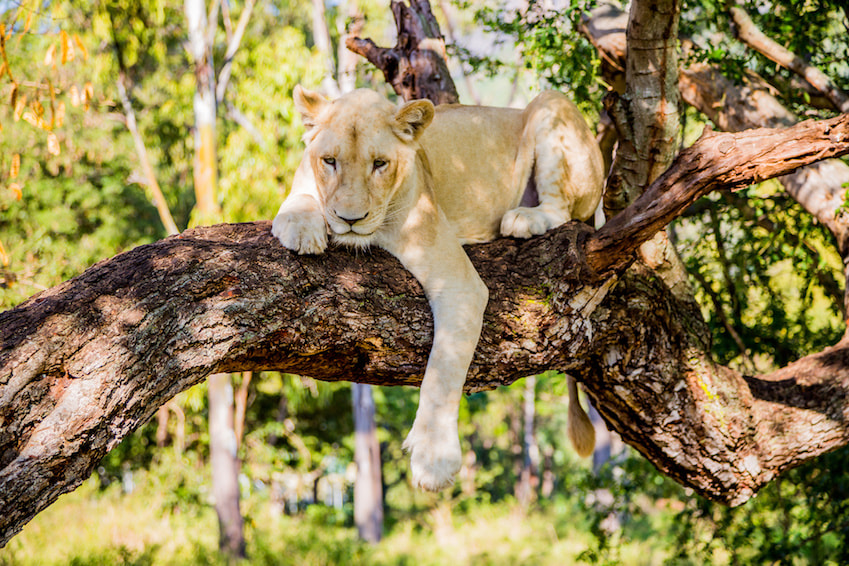 Experience adventures in Casela Park
Located in the
West of the island
, the Casela Natural and Leisure Park extends over 14 hectares of land that is covered with absolutely wonderful fauna and flora. You will encounter many different species in their natural environment. In addition to having an impressive variety of plants and trees, you will find exceptional animals. White Lions, tigers, zebras, cheetahs, pink pigeons, ostriches, etc... Your children will be amazed.
The charm of Casela Park is that you can discover this
unique fauna
through a wide range of activities that are both fun and informative and suitable for all ages. The choice is up to you now! Hike through the park and cross the many bridges and zip lines, let yourself be tempted by a quad ride accompanied by a guide and a photographer to capture the moment, climb a segway and discover the animals of the reserve, opt for a camel ride, venture into the cat enclosure in a 4x4 or enjoy a thrilling canyon swing session. A wide range of activities that will bring you into contact with animals and a magical place that will enchant you.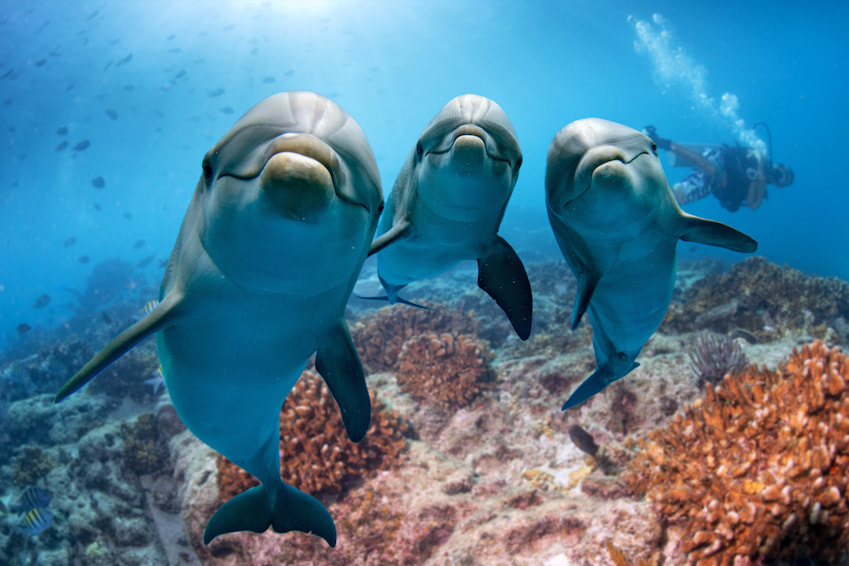 Swimming with dolphins
This is one of the most famous activities among travellers from all over the world. The dolphin is an animal that fascinates children and adults alike and it is often a dream for both children and parents to be able to meet this majestic creature.

Various Mauritian companies offer the possibility of swimming with dolphins in their natural environment. The excursion is usually done early in the morning in order to enjoy the tranquility and maximize the chances of seeing this superb marine mammal. A guide will give you a precise explanation of things to do and not to do and how to approach these creatures safely before finally being able to enter the water to meet the famous dolphins.

Keep your eyes peeled because you could come face to face with two species of dolphins. The first is the long beaked dolphin, which is easily recognisable because it lives in large groups. The second is the bottlenose dolphin, the most popular because the most friendly towards humans. A unique and exceptional activity that will leave its mark on the whole family!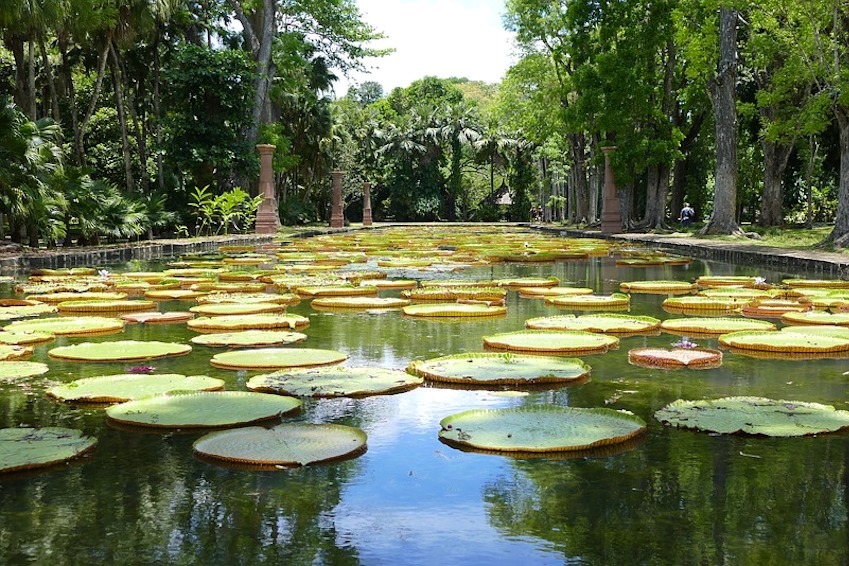 Walking in the Pamplemousses Botanical Garden
Head northwest of Mauritius to discover the charming Pamplemousse Garden. Covering nearly 37 hectares, this botanical garden was created in the 18th century and has grown over time to house many species from all over the world. Original and atypical shapes, bewitching colours and captivating scents, this is a haven of freshness that will delight everyone from children to adults.

The Pamplemousse Garden is home to some very impressive flora. Gigantic baobab trees, a hundred species of palm trees brought back from all over the world, including the fascinating talipot, flamboyant flamboyants in scarlet colours, jasmine with a bewitching smell, mango trees, spices and local species such as ebony wood. But the main attraction of the garden is the victoria amazonica, a variety of water lily whose leaves can sometimes reach 1.80m. Various animal species are present in this haven of serenity and move about freely. Try to see the famous Martin, the Cardinal, butterflies, reptiles, fish and many other captivating creatures.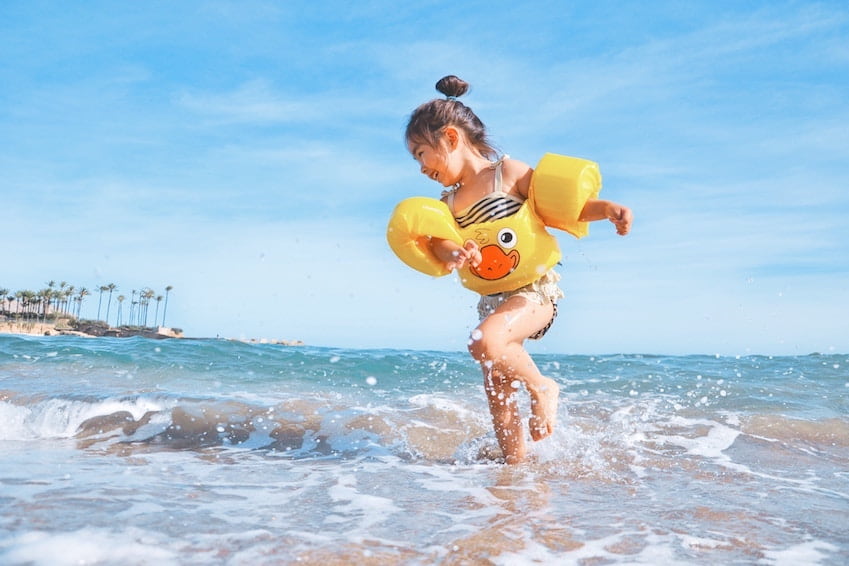 Discover the paradisiacal beaches
When you think of Mauritius, you instantly imagine a tropical climate,
heavenly beaches
and breathtaking landscapes. And for good reason! Mauritius is surrounded by hundreds of kilometres of fine sand and turquoise waters, sometimes even translucent, and each beach is more beautiful than the next. So what better way to share
special moments with your family
than on one of these dream beaches while enjoying the Mauritian sun and sea.
Enjoy this idyllic environment to relax in the sun while your children build a sand castle, swim in the warm, turquoise waters of the island and let yourself be tempted by all kinds of activities so you can have fun with your children and return home with unforgettable memories. This is the opportunity to take a trip at sea on a glass-bottomed boat to
observe underwater life
more closely, try water skiing, fly through the air during a parachute session or take a surfing class . So many leisure activities waiting for you! And don't forget to cool off with the many ice cream shops and sellers of fresh juices and fruit.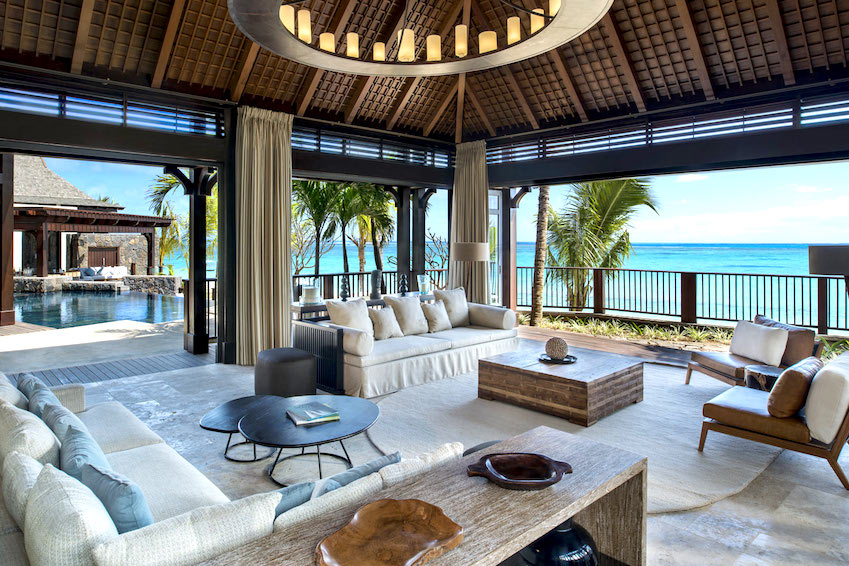 Accommodate the whole family
What could be better than to be able to stay in a paradisiacal environment with
extreme privacy
and comfort. It can sometimes be difficult to find a villa that suits the whole family. That is why Maurice Villas has selected a wide range of top-of-the-range properties just for you, which will perfectly suit both young and old. Holidays are always more fun when the whole family is together!
If you wish to travel with your children to Mauritius, we have refined and elegant villas with adapted facilities, high comfort, tailor-made services, all in the heart of a paradisiacal setting. Treat yourself to the best by renting one of our villas in Mauritius ranging from the upscale
waterfront
house with a
tennis court
for your children, to the luxury villa with a
private pool
,
Jacuzzi
and
house staff
so that you can recharge your batteries and relax. Our priority is your satisfaction, whatever your budget or your desires.